Infested Deck Event!
This event has finished, took place from Jul/14/12 to Jul/20/12.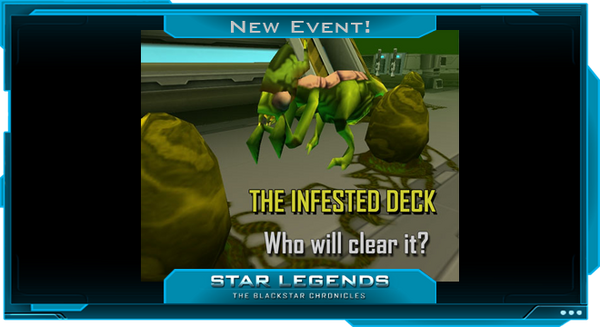 The UCS Blackstar has put out the call for assistance in clearing an infestation of major deck levels on the supercarrier. All available qualified personnel are asked to report for action!
Grab a flamethrower and get to it. It is a bug hunt!
Over the next 7 days the Star Legends community will be challenged to destroy 2 Million or more Eggs from the Infested Deck! Should this goal be achieved, all participants will be rewarded with an exclusive Pulse Rifle weapon. Log in and do your part!

Items introduced during the event
Store

---

---

---

Drops
Warning: This article may contain spoiling information,
You may choose to

show

or hide this information.